---
Global Goals Certification: Phoenix Design Aid recognized for sustainability and social responsibility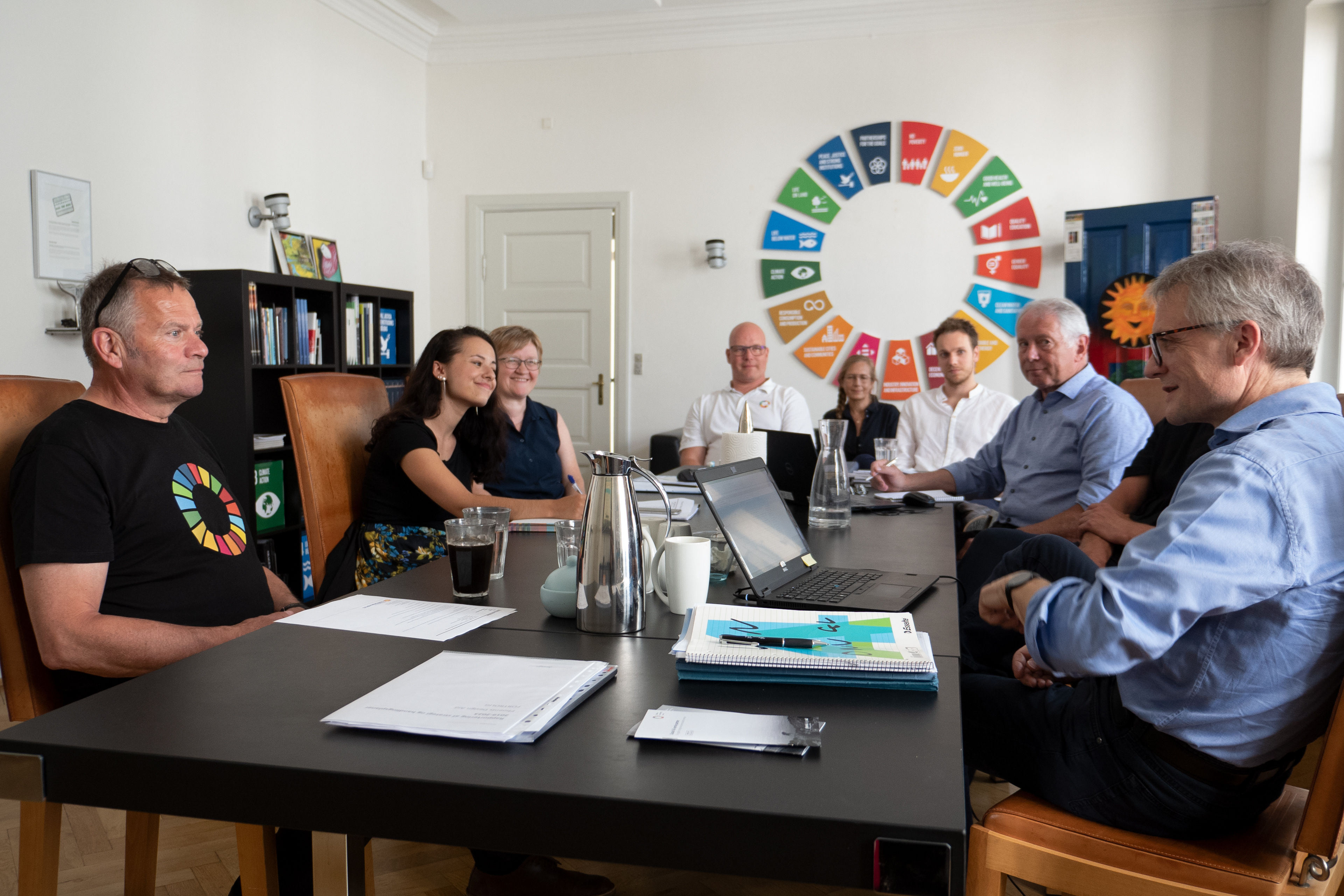 Phoenix Design Aid receives evaluation from DNV GL who determines whether the company is certified.  Photo: Groovy Graphic.
As the first ever graphic communications agency, Phoenix Design Aid has been certified in the UN's Sustainable Development Goals. The seal of approval was made by the Norwegian company DNV GL, which works to protect life, property and the environment.
The climate agenda is gaining momentum, and more and more companies are now working with a sustainability strategy. But at the design and communication company Phoenix Design Aid, sustainability and social responsibility are a much bigger part of everyday life, than in most other places. The company, which is based in Denmark, delivers a variety of communication tasks daily, to support the activities of UN organisations, and has also worked intensively with sustainability in recent years. This has now resulted in Phoenix Design Aid, being the first ever graphic communication agency, to be recognized with a certification in the UN's Global Goals.
It is with immense pleasure and a great deal of pride that we can now place Denmark on the world map with our new Global Goal certification. The certification reflects the intensive multilateral cooperation that we have had in recent years. For, although our cooperation with UN organizations has taught us how best to work in locations, where the Global Goals are of great importance, it has also taken a lot of effort from the whole team at Phoenix Design Aid to get here, says CEO, Dennis Lundoe Nielsen.
Phoenix Design Aid has been certified in 11 specific subgoals and the certification is awarded by the company DNV GL, which works to protect life, property and the environment.
Common ground
The UN's Sustainable Development Goals are comprised of 17 specific goals and 169 sub-goals, which set the direction for how the world's countries, together, can tackle the greatest global environmental and human challenges and achieve further sustainable development by 2030. It is thus a common objective to achieve the goals, and this was precisely the driving force behind working to obtain the certification at Phoenix Design Aid:
The UN's Global Goals are a great common ground in business dealings and with our customers. We all face the same challenges, and these goals can create meaningful collaborations across sectors and industries, both domestically and abroad. In the challenging times we are currently experiencing, it is more important than ever, which is why I am incredibly proud to be recognised that we, at Phoenix Design Aid, are doing our part, to make a difference.
Global Goal certification by DNV GL is awarded to companies which meet one or more of the 17 UN SDGs.
Phoenix Design Aid has achieved SDG certification in the following sub-goals:
Quality education (sub-goals 4.1, 4.2, 4.3 and 4.7)
Responsible consumption and production (sub-goals 12.2, 12.4 and 12.8)
Climate action (sub-goals 13.1 and 13.3)
Partnerships for action (sub-goals 17.16 and 17.17)
---
For further information please contact:
Dennis Lundoe Nielsen, CEO of Phoenix Design Aid, tel. direct +45 2141 0906 and  dn@phoenixdesignaid.com
About Phoenix Design Aid:
Phoenix Design Aid A/S is an international design and communication company with expertise in graphic design and digital solutions. With particular emphasis on serving international and intergovernmental organisations, including the UN and EU agencies, NGOs and public authorities, the company carries out all projects in accordance with internationally recognised principles of social responsibility as well as UN requirements. The company is certified in quality (ISO 9001), environment (ISO 14001) and occupational safety and health management (OHSAS 18001).
About DNV GL:
DNV GL has since 1864 worked with risk management and quality assurance  based on the aim of protecting life, property and the environment. DNV GL operates in more than 100 countries and is dedicated to helping customers make the world safer, smarter and greener.