---
Ny bæredygtighedsrapport: Fokus på integration af FN's 17 verdensmål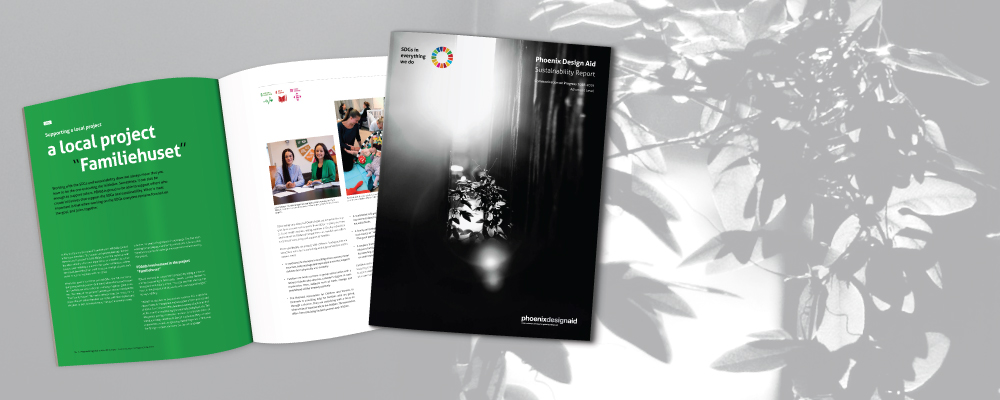 På side 26 i rapporten præsenterer PDAid en historie om et lokalt projekt ved navn "Familiehuset", som virksomheden støtter og sponsorerer. Projektet har til formål at integrere og uddanne både forældre og børn via undervisning, vejledning og støtte.
FN's verdensmål bliver i stigende grad en større og større del af det danske og internationale samfundsansvar for mange borgere, virksomheder, organisationer, foreninger og mange andre. For Randers-virksomheden Phoenix Design Aid (PDAid) er målene en integreret del af virksom-hedens arbejde og DNA.
PDAid har netop udsendt deres sjette bæredygtighedsrapport, Communication on Progress (CoP). Her inviterer virksomheden læseren indenfor i en verden, hvor FN's 17 verdensmål for bæredygtighed sætter dagsordenen for driften af virksomheden, der folder sig ud på 4 kontinenter.
Communication on Progress (CoP) 2018-2019
PDAid er medlem af UN Global Compact, og virksomheden har siden 2007 støttet op om de ti generelle principper opstillet af initiativet. Hvert år rapporterer PDAid på "advanced level" om sin fremgang inden for de fire kategorier, målene er delt op i: Menneskerettigheder, arbejdstagerrettigheder, miljø og antikorruption. Rapporteringen dækker perioden oktober 2018 til og med september 2019.
For PDAid er rapporten meget mere end en bæredygtighedsrapport. Den fungerer som et ledelsessystem for samfundsansvar, idet den fortæller, hvordan PDAid formår at inddrage samfundsansvar og bæredygtighed i drift og dagligdag.
Walking the talk: The PDAid SDG pyramid
PDAid har i år forsøgt at tage skridtet videre med integrationen af FN's verdensmål i et nyt afsnit, der fortæller om, hvilke verdensmål der danner basis for den måde, PDAid arbejder på. Samtidig har virksomheden udarbejdet en "SDG-pyramide", der illustrerer fundamentet for deres tilgang til verdensmålene. Virksomhedens arbejde er baseret på mål nummer 17: Partnerskaber for handlinger. Pyramiden illustrerer samtidig, hvilke andre mål PDAid har valgt at lægge særligt fokus på, hvoraf nummer 4, 12 og 13 bliver yderligere udfoldet med konkrete eksempler.
Dennis Lundø Nielsen, CEO ved Phoenix Design Aid, er meget stolt over dette års CoP og virksomhedens SDG-pyramide. Dennis fortæller, at PDAid støtter FN's verdensmål på tre måder:
"PDAid forsøger at støtte FN's 17 verdensmål via egne initiativer, støtte af andres initiativer og sidst ved at videns dele og påvirke vores partnere. I rapporten forsøger vi at folde alle tre fremgangsmåder ud. Vores egne initiativer har især stor betydning, da vores drift er afstemt med de verdensmålenes guidelines. Al aktivitet i virksomheden, som er kulstof udledende, udligner vi gennem certificerede programmer. Vores materiale er miljøvenligt, og 70 % af de ansatte i virksomheden er kvinder. Driften i virksomheden er certificeret under høje standarder inden for kvalitet, miljø, arbejdsmiljø og CSR – og så er vi FSC CoC™-certificeret til produktion af trykt materiale."
Læs rapporten her: https://phoenixdesignaid.com/sdgs/