---
PDAid Advocacy in COP22 "Climate Change – The New Economy"

Phoenix Design Aid is proud to announce its contribution to the COP22-publication "Climate Change – The New Economy", the official magazine of the UN COP22 summit, taking place November 7 to 18, 2016 in Marrakech.
The COP22-publication gathers contributions from a variety of great minds, representing governments, NGOs, and businesses. They all present best practice in contributing to a sustainable business performance. Magazines are distributed at the summit, via hotels, airlines and private aircrafts, car rental companies and through a targeted mailshot, including universities.
Have a look at Phoenix Design Aid's article covering the progress of the genesis and development of the PDAid Foundation on page 108-109 in the online version of the UN COP22 magazine. The article entitled "PDAid Foundation Expands and Improves" communicates the latest development within the PDAid Foundation and initiatives supporting talented youth in developing countries through education, financial support, personal communication and mentorship.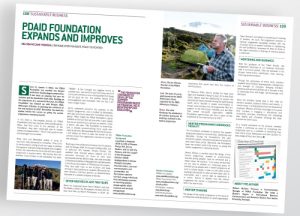 Achieving ongoing and viable improvements in growth, democracy and human rights in developing countries calls for a strengthening within.
The PDAid Foundation builds its effort on the belief that young people hold the key to sustainable development. Unfortunately, limited opportunities and means dominate youth, restricting them from making full use of their potential. However, the PDAid Foundation is convinced that with the right education, training and mentorship, it is possible to help young people obtain a position in their communities in which their talent can flourish and eventually allow them to contribute to local development.
Since its launch in 2015, the PDAid Foundation enrolled two Kenyan youth from dis-advantaged communities. It has been an amazing first year for mentees and the foundation team alike. Building on the experiences of a successful first year with two mentees enrolled in higher education as the high points, the PDAid Foundation has initiated the enrollment of five new mentees by 2017. By then, a newly developed mentor program, tailored to accommodate talented young people's need for self-belief and a better future, is offered to all seven mentees, thus adding an extra dimension to the overall support program.
The PDAid Foundation will continue to support young individuals from developing countries in positively changing conditions within their local communities. Building on the concept of a mentoring program, the aim is to influence young individuals to develop good attitudes and solid values within the fundamental issues of human rights, democracy and sustainability.
Have a look at Phoenix Design Aid's article on page 108-109 in the online version of the UN COP22 magazine.
Go to www.pdaidfoundation.org to learn more about the PDAid Foundation.