---
Phoenix Design Aid has been awarded an AAA diploma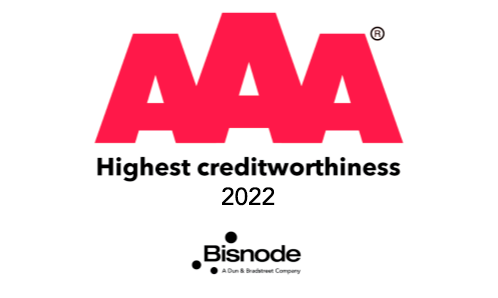 In May 2022, Phoenix Design Aid was awarded with an AAA diploma for highest creditworthiness.
Phoenix Design Aid has been awarded an AAA diploma for the highest creditworthiness. The rating is based on Bisnode's system of creditworthiness. The system has seven ratings in total with triple AAA being the highest. According to the rating system, an AAA diploma illustrates that it is "a company with an exceedingly strong ability to meet current payment obligations". Read more here: https://www.dnb.com/da-dk/om-bisnode/hvad-vi-gor/live-rating-logo-eng/.
To Phoenix Design Aid, the AAA diploma is very important and serves as a stamp of approval as it is only approximately two per cent of all companies in Denmark hold a triple A rating, while Phoenix Design Aid is one of 73 companies with the same rating within the field of communication and graphical design. Phoenix Design Aid is proud of being part of this league.
"We are thrilled to have received this diploma as it illustrates that we are a creditworthy business partner," said Dennis Lundoe Nielsen, CEO of Phoenix Design Aid.