---
Phoenix Design Aid is nominated to "Årets SMV" in the category "ESG frontrunner"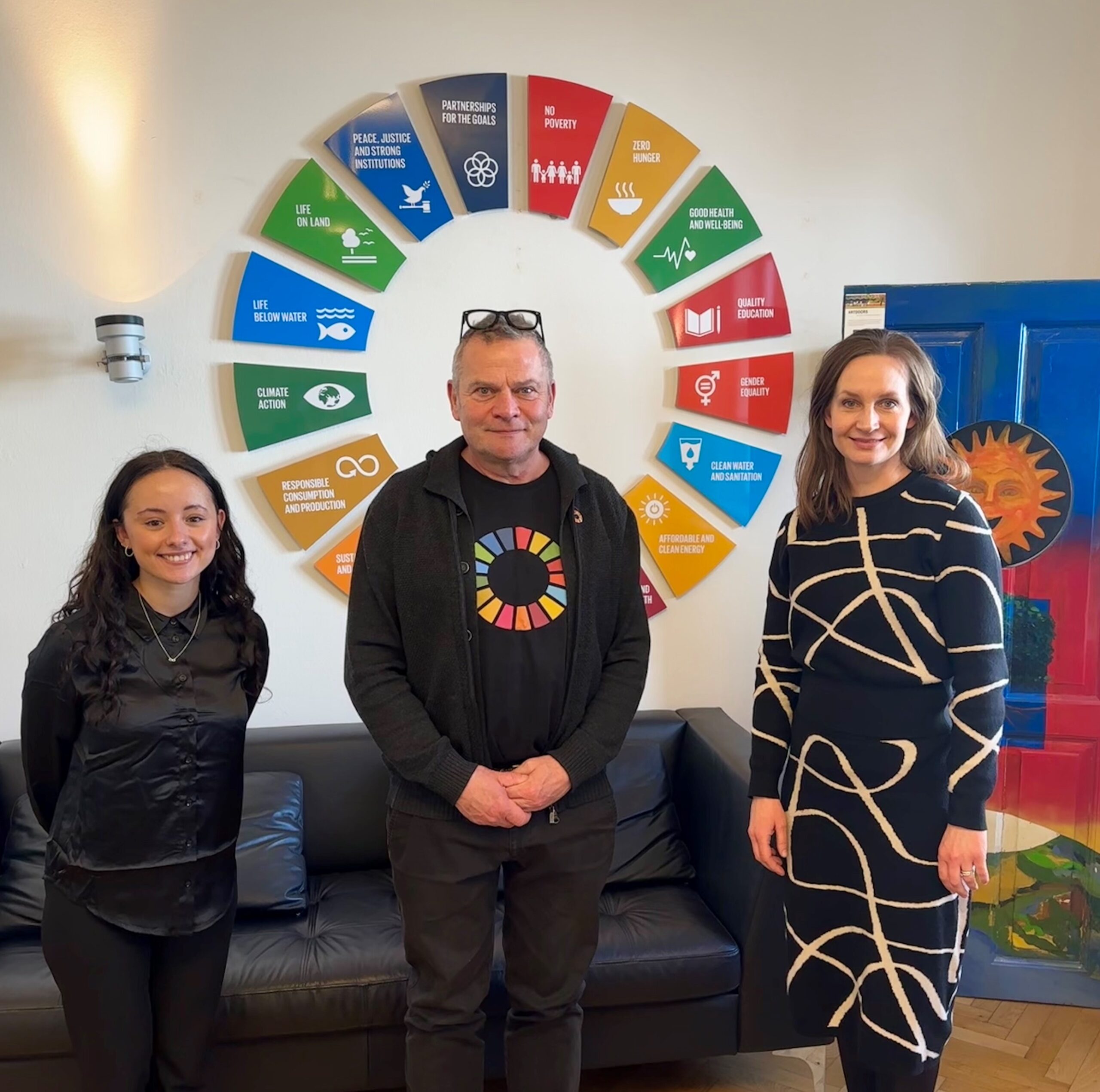 On 23 February 2023, Dennis Lundoe Nielsen and Azra Mujacic were interviewed by Maria Hygum Fleischer about Phoenix Design Aid's work with sustainability and the environment as well as the work with the preparation of the company's first ESG report for 2021.
From right to left: Azra Mujacic (Communication Specialist at Phoenix Design Aid), Dennis Lundoe Nielsen (CEO at Phoenix Design Aid) and Maria Hygum Fleischer (Specialist Lawyer at DAHL Advokater).
In February 2023, Phoenix Design Aid received the great news that the company has been nominated as "Årets SMV" (SME of the Year) in the category "ESG frontrunner".
Phoenix Design Aid has been nominated as an ESG frontrunner by Årets SMV, a non-profit event. ESG stands for Environmental, Social and Governance and presents how a company is working with different standards and criteria in the three areas.
According to Årets SMV, this nomination is given to "[…] a person or a team that has had a key role in ensuring that an SME has been at the forefront of the work with ESG and ensured that the ESG effort has been successfully implemented" (translated).
For Phoenix Design Aid, working with ESG has come naturally to the company due to its many years of work with sustainability and the environment as well as its certificate in the Sustainable Development Goals (11 targets within SDG 4, 12, 13 and 17) and three ISO certificates, including ISO 14001 (Environmental Management), ISO 9001 (Quality Management) and ISO 45001 (Occupational Health and Safety Management).
"ESG revolves around three areas, environment, social and governance, which we have worked with for many years, but we began to really look into ESG during 2021, when we could see that the trend was moving and, at the same time, our board of directors started asking questions about the area", said Dennis Lundoe Nielsen, CEO at Phoenix Design Aid.
In 2022, the ESG work really took off for Phoenix Design Aid when the company was selected to test an ESG reporting platform made by Valified. Phoenix Design Aid offered itself as a test company with the particular aim of being able to offer feedback as an SME. At the end of 2022, the company prepared its first ESG report for 2021.
"We are incredibly proud of the nomination for SME of the Year – ESG frontrunner, as our work with ESG is just the beginning for us. We hope to be able to create further transparency within the area of sustainability and the environment with our ESG reporting", said Dennis Lundø Nielsen, CEO at Phoenix Design Aid, and adds that he hopes that Phoenix Design Aid can inspire other companies to kick-start their work with ESG.
Last, but not least, Phoenix Design Aid is proud of the nomination, which has a strong relation to the company's tree planting project, as it taps into two of the elements of ESG, including environment and society. You can read more about the tree planting project on page 31 of the company's sustainability report 2022.